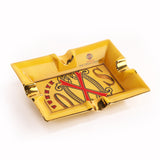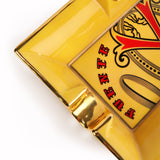 Fuente The OpusX Society
EL AMARILLO PORCELAIN ASHTRAY


*SOLD OUT*
THE ASHTRAY
Its stunning yellow color represents one of the official colors of the brand. Vibrant colors are part of our company's philosophy and personality, we've been known for since our inception.
The Spanish porcelain limited edition collectible ashtray depicts our OpusX Society logo. This gem is limited to 250 pieces worldwide, and it's handcrafted and manufactured with porcelain from Sargadelos, a company rich in its history and culture for over 200 years.  
THE STORY
The Fuente OpusX Society by Manny Iriarte has once again put its trend-setting stamp of creative genius on this latest creation. This limited release is very near and dear to Manny's heart because his ancestry comes from Spain. Collaborating with a 200-year-old family business in Spain that has perfected creating porcelain works of art was of utmost importance.
*Only 250 yellow ashtrays are available worldwide.
SPECIFICATIONS
Height: 1.57 in (4.00 cm)
Material: Porcelain from Sargadelos, Galicia, Spain.